*
No, the Russians did not shoot down a UFO, despite some claims. Unfortunately for residents of Chelyabinsk, Russia, it was nothing more than a huge rock from space; a meteor/bolide which it happened to fall to earth only hours before asteroid 2012 DA14 made it's 17,200 mile pass (closer than many satellites)!

At the time of this posting, approximately 1200 people have been injured, in and around Chelyabinsk, mostly by flying glass. Many people may have been injured after having been knocked off their feet by the blast from the fireball.

According to the trajectory of the Chelyabinsk bolide, it had nothing to do with asteroid 1012 DA14... and it wasn't a UFO. -SW
* * *
Press Release: NASA Experts Discuss Russia Meteor in Media Teleconference Today
WASHINGTON -- NASA experts will hold a teleconference for news media at 4 p.m. EST today to discuss a meteor that streaked through the skies over Russia's Urals region this morning.
Scientists have determined the Russia meteor is not related to asteroid 2012 DA14 that will safely pass Earth today at a distance of more than 17,000 miles. Early assessments of the Russia meteor indicate it was about one-third the size of 2012 DA14 and traveling in a different direction.
Panelists for the teleconference are:
-- Bill Cooke, lead for the Meteoroid Environments Office at NASA's Marshall Space Flight Center in Huntsville, Ala.
-- Paul Chodas, research scientist in the Near Earth Object Program Office at NASA's Jet Propulsion Laboratory in Pasadena, Calif.
News media interested in participating should dial 888-843-7186 and use the passcode METEOR.
The teleconference will be carried live online at:
For detailed information concerning the Earth flyby of 2012 DA14, visit:
*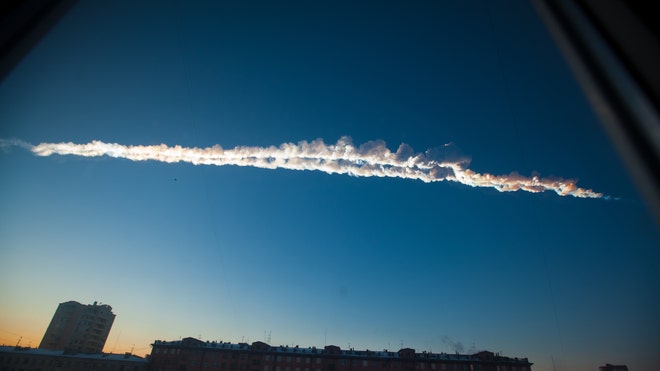 *
About 1,100 injured as meteorite hits Russia with force of atomic bomb
A meteor streaked across the sky and exploded over Russia's Ural Mountains with the power of an atomic bomb Friday, its sonic blasts shattering countless windows and injuring about 1,100 people.
The spectacle deeply frightened many Russians, with some elderly women declaring that the world was coming to an end. Many of the injured were cut by flying glass as they flocked to windows, curious about what had produced such a blinding flash of light.
The meteor -- estimated to be about 10 tons and 49 feet wide -- entered the Earth's atmosphere at a hypersonic speed of at least 33,000 mph and shattered into pieces about 18-32 miles above the ground, the Russian Academy of Sciences said in a statement. But even small asteroids pack a tremendous punch, explained Andrew Cheng of the Johns Hopkins Applied Physics Laboratory.
"It doesn't take a very large object. A 10-meter size object already packs the same energy as a nuclear bomb," Cheng, who led a 2000-2001 mission for NASA to orbit and land on an asteroid, told FoxNews.com.
Amateur video showed an object speeding across the sky about 9:20 a.m. local time, just after sunrise, leaving a thick white contrail and an intense flash.
"There was panic. People had no idea what was happening," said Sergey Hametov, a resident of Chelyabinsk, a city of 1 million about 930 miles east of Moscow.
"We saw a big burst of light, then went outside to see what it was and we heard a really loud, thundering sound," he told The Associated Press by telephone.
The meteor hit less than a day before Asteroid 2012 DA14 is to make the closest recorded pass of an asteroid to the Earth for a rock of its size -- about 17,150 miles. But the European Space Agency said its experts had determined there was no connection -- just cosmic coincidence.
The meteor released several kilotons of energy above the region, the Russian science academy said. According to NASA, it was about 15 meters or 49 feet wide before it hit the atmosphere, about one-third the size of the passing asteroid.
Some meteorite fragments fell in a reservoir outside the town of Chebarkul. The crash left a 26-foot-wide crater in the ice.
The shock wave blew in more than 1 million square feet of glass, according to city officials, who said 3,000 buildings in the city were damaged. At one zinc factory, part of the roof collapsed.
The Interior Ministry said about 1,100 people sought medical care after the shock wave and 48 of them were hospitalized. Most of the injuries were caused by flying glass, officials said.
There was no immediate word on any deaths or anyone struck by space fragments.
Continue reading here.
*
Video Link
*
Youtube video courtesy Alexandr Ivanov
*
Russian meteorite crash: LIVE UPDATES
* * *
Russia Meteor Not Linked to Asteroid Flyby
Source:
NASA
NASA statement on Russia meteor:
"According to NASA scientists, the trajectory of the Russia meteor was significantly different than the trajectory of the asteroid 2012 DA14, making it a completely unrelated object. Information is still being collected about the Russia meteor and analysis is preliminary at this point. In videos of the meteor, it is seen to pass from left to right in front of the rising sun, which means it was traveling from north to south. Asteroid DA14's trajectory is in the opposite direction, from south to north."
Update: February 15, 2013 7pm PST
New information provided by a worldwide network of sensors has allowed scientists to refine their estimates for the size of the object that entered that atmosphere and disintegrated in the skies over Chelyabinsk, Russia, at 7:20:26 p.m. PST, or 10:20:26 p.m. EST on Feb. 14 (3:20:26 UTC on Feb. 15).
The estimated size of the object, prior to entering Earth's atmosphere, has been revised upward from 49 feet (15 meters) to 55 feet (17 meters), and its estimated mass has increased from 7,000 to 10,000 tons. Also, the estimate for energy released during the event has increased by 30 kilotons to nearly 500 kilotons of energy released. These new estimates were generated using new data that had been collected by five additional infrasound stations located around the world – the first recording of the event being in Alaska, over 6,500 kilometers away from Chelyabinsk. The infrasound data indicates that the event, from atmospheric entry to the meteor's airborne disintegration took 32.5 seconds. The calculations using the infrasound data were performed by Peter Brown at the University of Western Ontario, Canada.
"We would expect an event of this magnitude to occur once every 100 years on average," said Paul Chodas of NASA's Near-Earth Object Program Office at the Jet Propulsion Laboratory in Pasadena, Calif. "When you have a fireball of this size we would expect a large number of meteorites to reach the surface and in this case there were probably some large ones."
The trajectory of the Russia meteor was significantly different than the trajectory of the asteroid 2012 DA14, which hours later made its flyby of Earth, making it a completely unrelated object. The Russia meteor is the largest reported since 1908, when a meteor hit Tunguska, Siberia.
_________________________________________________________
Preliminary information indicates that a meteor in Chelyabinsk, Russia, is not related to asteroid 2012 DA14, which is flying by Earth safely today.
The Russia meteor is the largest reported since 1908, when a meteor hit Tunguska, Siberia. The meteor entered the atmosphere at about 40,000 mph (18 kilometers per second). The impact time was 7:20:26 p.m. PST, or 10:20:26 p.m. EST on Feb. 14 (3:20:26 UTC on Feb. 15), and the energy released by the impact was in the hundreds of kilotons.
Based on the duration of the event, it was a very shallow entry. It was larger than the meteor over Indonesia on Oct. 8, 2009. Measurements are still coming in, and a more precise measure of the energy may be available later. The size of the object before hitting the atmosphere was about 49 feet (15 meters) and had a mass of about 7,000 tons.
The meteor, which was about one-third the diameter of asteroid 2012 DA14, was brighter than the sun. Its trail was visible for about 30 seconds, so it was a grazing impact through the atmosphere.
It is important to note that this estimate is preliminary, and may be revised as more data is obtained.
http://www.nasa.gov/topics/solarsystem/features/asteroidflyby.html
DC Agle 818-393-9011
Jet Propulsion Laboratory, Pasadena, Calif.
agle@jpl.nasa.gov
2013-061
*******************************************************